Ami Avinoam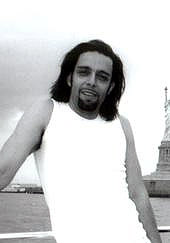 BIO:
Ami, who was until recently, the manager of Sidewalk Cafe, passed away on Wednesday January 21 2009.
Ami was the layout designer and photographer for the Antifolk Vol.1 CD.He was a huge part of the Antifolk scene and his love and support of the community will be sorely missed and cherished.
We've set up this page as a tribute to the man. Please feel free to email us at info - at - antifolk.net with your thoughts, stories and photos and we will post them below.
Why He's So Antifolk