The Creaky Boards



Buy The CD at The Store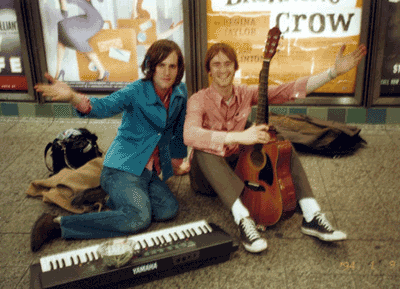 Sun-blasted Neo-Doo-Wop
A ditty echoing from the alley
We are Creaky Boards!
Andrew on keys
Jason on guitar & trumpet
Tremendous Love on chorus
They say that the most soothing sound to human ears is the human voice. We love groups that can harmonize.
The Scoop: We played in a slew of punk groups in school before stitching our way across Michigan to meet in Hot Blast, an Ann Arbor band that played Stooges covers and songs about bikes and favorite numbers. Meanwhile, Andrew slept in a church and recorded a solo project called Pierson Spec that blew everyone's wigs off. Jason split for NY. Andrew hit the road and saw America riding the spine of a Greyhound, playing piano wherever cops wouldn't bust him and snoozing on any available doormat.
By January of 2004 we reunited in Brooklyn as Creaky Boards and have since been entertaining subway crowds, open-mic bars, and making good friends with the many lovely and funny people down at Sidewalk like Lance Romance, Cheese on Bread, Charles Zerner, Jessie Murphy, The Wows, Festival, The Trachtenburg Family, Ed Purchla, Soce the Elemental Wizard, and many others. We are especially grateful to Lach for being a lighthouse during many a stormy night from the very beginning.
Creaky Boards currently resides at 538 Johnson Ave., #212, above a paint factory in Bushwick, Brooklyn. Stop by anytime.
Why we are Antifolk:

If they come, let them find you laughing
Not fussing over glossy 8 x 10s and manager staffing
Got enough misery at the 9-to-5ives
let's go down to Sidewalk and have fun with our lives
More info at:www.creakyboards.com