Regina Spektor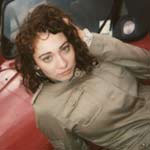 Bio
Born and raised in Moscow until age 9, Spektor listened to her father's bootleg tapes of Western pop and rock as a young child and also learned to play piano. She and her family moved from Russia to the Bronx, where she was immersed in American culture. Spektor developed her classical piano training by attending the SUNY Purchase Music Conservatory (Why do so many Antifolkers come out of Purchase???).

A frequent performer at the Sidewalk's Antihoot, Regina quickly moved up to headlining on weekends and playing the Antifolk Fest. Spektor developed a following that included Alan Bezozi, They Might Be Giants' drummer who introduced Spektor to the Strokes' producer, Gordon Raphael. Raphael and Bezozi worked with Spektor on her third album, Soviet Kitsch, in New York and London (where she collaborated with the band Kill Kenada). Soviet Kitsch was initially self-released like her other work, but it eventually found a wider release with Sire Records. Spektor appeared on The Strokes single and opened for them at Madison Square Garden, from there a short hop to Jay Leno and international fame.
Why She's Antifolk:
" I started listening to all of these Antifolk people and really felt at home at Sidewalk Cafe and became friends with a lot of talented people there. I realized that I was doing it all wrong and needed to find my own voice. "
"Labels. I want more labels! Give me more! But seriously, Antifolk refers to basically any musician who plays/used to play at Sidewalk Cafe on 6th street and Avenue A on the Lower East Side, NYC, NY, USA, Earth, Universe and beyond."-Regina>
Press Quotes:
"Ravishing, kooky and macabre anti-folk songs"-Blender
More info at Regina Spektor.