Mike Rimbaud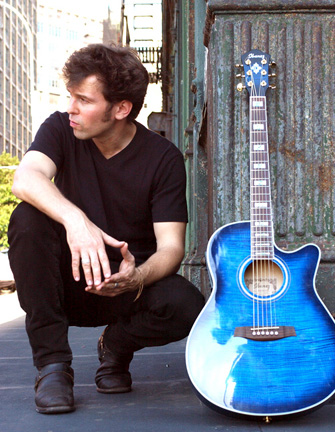 Bio
Native New Yorker Mike Rimbaud, began performing his original songs in the late 1980's in various downtown bars and clubs. In 1990 he signed with a French label and released his first CD, Mutiny in the Subway recorded at Baby Monster studios, a sparse recording with only guita,r percussion and bass. After touring extensively in France, Mike moved to Paris in 1991 where he lived for almost three years performing around Europe and recording. Funeral Lover was recorded half in New York, half in Paris released late in '91. In 1993 songwriter Elliott Murphy produced Mike's third CD, Red Light. 1994 marks Mike's return from ex-patriot life to New York City. He reconnects with his East Village roots, returns to the new Fort at the Sidewalk cafe, starts playing open mikes again and writing new songs for his next CD. After a couple of years of regularly performing gigs with his new band the Subway Sun, he records, Graffiti Trees released in 1997 with Mugsy records, a new NYC label and Media 7 in France. Between 1998 and 2000 Mike records Adam Evening with French electronic musician, Marc Billon.
In 2002 Mike begins work on his first solo acoustic record, Beast of Broadway with tracks like 7-11 on 9-11 produced by Brian Ritchie (of The Violent Femmes).

2003 sees the release of Light of Day a tribute to Bruce Springsteen, with Mike's rockabilly rendition of Atlantic City He also performed at the Stone Pony with other artists to help promote the CD. Between 2004-2006 Mike continues to perform with The Subway Sun, releasing a new CD, Lower East Side Portrait in Early 2006. This coincides with a show of his paintings, a series of over 50 portraits of Lower East Siders.
Why He's Antifolk:
When I began performing in New York, I never was attracted to the sensitive songwriter style, I was influenced by powerful rock music, but it's never easy to put a band together so being a prolific writer I aimed to get that rocking spirit with an acoustic guitar. As others from that time remember, the old school "folkies" were put off by the direct, sometimes aggressive style, musically and lyrically of the new Antifolk school. I found the "Fort"scene at Sofie's bar, Chameleon, Nightingales and now Sidewalk inspiring with it's eccentric mix of songwriters performance artists and poets.
Press Quotes:
"Lower East Side vet Mike Rimbaud took the name of his new band from a set of cute cartoon signs that reminded '50s commuters not to smoke or spit. But itís that dingy, subterranean, through-the-grate kind of glow that informs his scruffy-voiced rock songs, invoking '70s Costello and Springsteen along with an improbable hint of Brazil (Kamenetz)"-The Village Voice

"Mike Rimbaud, in basic black, wielded an electric guitar in songs that were terse, telegraphic and propelled by urgent strumming. Mr. Rimbaud has a rocker's rasp in his voice, and he knows how to get the most power out of verses with few words. His songs crackle with New York's nervy paranoia."- By JON PARELES The New York Times
More info at Mike Rimbaud.