Kelsey Bennett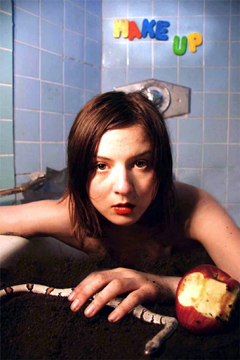 Bio Kelsey Bennett is a singer/songwriter and performer who, at the moment, resides in Cambridge Massachusetts. Influenced by rock 'n' roll, punk rock, folk music, and the blues, it has been noted that Kelsey is "able to throw herself into her lyrics with reckless abandon…with an inimitable sense of vigor that sets her vocal style apart from pretty much anyone else."
Kelsey was born into an artistic family and brought up immersed in a creative environment. As well as being the Granddaughter of singer, Tony Bennett, Kelsey's childhood home housed a very active recording studio, where notable artists, such as: Naughty by Nature, Salt-N-Pepa, Rob Base, and Teddy Riley made records. Day and night low frequencies rumbled through the house.
As a young child Kelsey spent a lot of time in the studio, curling up in a bass drum when no one was around or falling asleep under the console while her Dad was recording. When she was older, her time in the studio was spent practicing and recording her own music. At the age of twelve she began playing the guitar and by fourteen was writing songs, with a style described as, "...oddly conversational in ways that other's are not".
In 2006, under the band name 'Pucker', she recorded a three song EP entitled Tendencies of Forgetting. After discovering that 'Pucker' was already a trademarked band name, Kelsey decided to play solo under her own name (although, still on the lookout to perform with other musicians).
In 2007, she released another three song EP called Follow the Swan. Two of the three songs were recorded at her home on a four track, with her roommate on drums. The third song, with Kelsey on the piano, was recorded live at the Sidewalk Café, a club in New York where she frequently gigs.
At times solo and other times with supporting musicians, Kelsey is currently performing as much as possible and is presently recording a six song EP. In addition to writing songs and performing, Kelsey also writes poetry and works as a professional photographer.
Why She's So Antifolk Because in 1965, when negative (-) 18 years-young, she was psyched about Bob Dylan going electric.
More info at kbsongs.