Jeffrey Lewis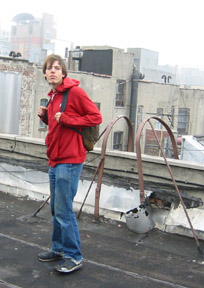 Jeffrey Lewis' Latest CD, 12 Crass Songs added to the Fortified store.
Biography
Jeffrey Lewis was raised on New York's Lower East Side by loving beatnik parents. Having no television in the tenement apartment, he became a comic book fanatic before even learning how to read. A life-long love of writing and drawing comic books, both autobiographical and fantastical, found new vent when Lewis began making up songs in the winter of 97-98. Initially inspired by the gentle psychedelic folk of Donovan, the DIY magic of Daniel Johnston, and the fearless early recordings of local folk-punk legends the Fugs, Lewis began recording homemade cassettes in 1998 and selling them, packaged in small comic books, at his soon semi-monthly shows at Sidewalk, home of New York's Antifolk scene. Lewis's younger brother Jack began playing electric bass and contributing to the shows and tapes.
When other Sidewalk performers the Moldy Peaches signed to Rough Trade Records in late 2000, they recommended Jeffrey's cassette recordings to label head Geoff Travis, and Rough Trade has since released two full-length Jeffrey Lewis CDs in America, England and Europe, garnering glowing press and a small but devoted following for the idiosyncratic illustrator/songwriter. Like his Rough Trade releases, and a recent art/music/DVD box set project (released on England's Hallso label), Lewis's shows can range between "lo-fi folk and sci-fi punk" as well as occasionally incorporating "low budget videos" (large ragged comic books displayed to accompany songs).
It is only since 2002 that Jeffrey and Jack have become an "official" band, with various friends trading time in the drum seat. The Jeffrey Lewis Band (with an ever-changing "Jeffrey Lewis & The." title) have played from Wisconsin to the Polish border, sharing bills along the way with international acts big and small, including Cornershop, the Fall, Beth Orton, Frank Black, Daniel Johnston, Scout Niblett, the Mountain Goats, Radio4, Adam Green, Kimya Dawson, British Sea Power, the Fiery Furnaces, Thurston Moore, and most recently a string of shows with the Trachtenburg Family Slideshow Players.
"Jeffrey Lewis: 'The Last Time I Did Acid I Went Insane' - Best Indie Album of 2002; like his drawings, his music is witty, animated and true."
New York Daily News
"Bizarre but brilliant. Jeffrey Lewis could well be [New York's] ace in the hole."
Uncut
More Jeff at Click Here