Elizabeth Devlin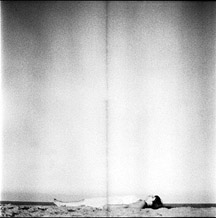 Photo by Magali Charron
Bio: After recording "Ladybug", a three song EP, fated for release on 7"vinyl this upcoming Spring 10', Elizabeth plans to release a second full-length album in 2010, details to be announced.
Devlin invokes influences from scratchy phonographs, combining bitter sweet, haunting vocals with poignant lyrics and angelic, cacophonous melodies. Papa Devlin fancied himself a gypsy and traveled the coast peddling his one-man-band street performance; Momma was a writer, who tended many children and hand sewed puppets to sell on the DC streets. Pulling these things to her, Elizabeth's performance art began as lyrical, melodic, a capella poetry but soon blossomed into an electroacoustic sound when she began to play the Autoharp.
Following Elizabeth's debut, self-released, full-length album, "All Are Relative" in Dec 08', she toured the US as back-up singer for Larkin Grimm in February of 09' before traveling to Quebec, to play several solo shows with fellow NYC musician Dan Costello & French-Canadian duo, Geneviève et Matthieu. In Spring 09', Elizabeth traveled to Austin, TX with Philadelphia band Hermit Thrushes, playing several SXSW unofficial showcases along the way. Following SXSW, Elizabeth embarked on a solo tour of Ireland and England with friend Shawn Butler (BNS Sessions) playing shows in Bundoran , London, Manchester, and Hull before boarding a plane to Zurich where she joined Dan Costello, to continue her solo tour, playing shows in cities throughout Germany, France and Switzerland!
Aside from extensive touring, Devlin continues to work on projects with other musicians, poets and artists. In March 09', Devlin was approached by the Canadian underground poet & performance artist Alice P. Ougler regarding her book, entitled "These Poems." Elizabeth recorded "Dead Weight Tonnage" for "The Ougler Sessions", a compilation album which will include several musician's interpretations of Ougler's poems. "These Poems," along with "The Ougler Sessions," is fated for publication in Summer 2010, Smockadoll Förlag/Press, Malmoe, Sweden.
Also in 2009, Elizabeth collaborated with Moselle Spiller and Indira Cesarine, to create a multimedia art piece to accompany my song "Gatsby", recently released in KALEIDOSCOPIC, the first issue of the on-line fashion and culture magazine, XXXX Magazine. The product of over 100 contributors, the magazine showcases original productions of conceptual film, contemporary art, conceptual fashion, photography and multimedia as well as addresses controversial topics in the media via documentary shorts.
Elizabeth Devlin is the two-time recipient of the Common Ground On the Hill, Roots Music & Arts Memorial Scholarship through which, she attended Traditions Music Workshops in 2007 & 2008. Also in 2008, Elizabeth was awarded the Mary Lou Orthey Scholarship to attend the Mt. Laurel Autoharp Gathering where she received the Leonard A. Reid Peoples Choice Award for Outstanding Vocal Performance.
Press Quotes:

"Il pleut sur les cordes, les gouttes ajoutent leur sel aux harmoniques, il pleut sur la dame, celle assise sur un cygne, que d'eau que d'eau, même le lac est trempé. Et la dame continue de chanter, une voix hors du temps, 1920, 1980, quelque chose d'excessivement aigü comme Kate Bush, quelque chose d'un chat qui réveille tout un quartier, quelque chose d'une averse qui vous saisit tout entier.
It's raining on the strings, drops add their salt to the harmonics, it's raining on the lady, the one sitting on a swan, so much water everywhere, even the lake is soaked to the skin. And the lady goes on singing, with her voice out of time, 1920, 1980, something excessively high, like Kate Bush, something of a cat waking up all the neighborhood, something of a rain that hits your whole body." -Delicious Scopitone, www.deliciouscopitone.com, Nov. 4, 2009
"Elizabeth Devlin croons brassy dreams over Autoharp" -Top Live Shows: MUSIC-Time Out New York / Issue 723 : Aug 6–12, 2009
"If you like CocoRosie and Jolie Holland you'll like the sound of Elizabeth Devlin. Armed only with an Autoharp, she sings of the loveless and unrequited with the sweetest intonation. What beautifully sickly sweet music she does make. She released 'All Are Relative' at the end of last year. You can also catch her in the North of England before she floats back to her haven of New York. Ahhh." -Super Ace: The lamb and the lion, London/UK Blog, May 2009
"Song: Heloise and Abelard by Elizabeth Devlin. Beyond the a propros subject matter, this lady can really play the Autoharp. This song sounds like something you'd find on a gramophone record." -Lauren Groff, Largehearted Boy Blog: Delicate Edible Birds, Feb. 2009
"Then think about Elizabeth Devlin, who sings as though her influences are not of this Earth, and who, a scant three years ago, compelled audiences to listen intently through hour-long shows at Sidewalk, her lilting vibrato accompanied only by the hand-claps she could chide out of the audience. In less-capable hands, an hour of solo a capella songs would be interminable, but Devlin soldiered on and kept audiences interested for a few months, before picking up an Autoharp, and not so much learning it, so much as having the instrument in her bones. This, All Are Relative, is Devlin's debut full-length (or any length, save one song on Crafty Records' Anticomp Folkilation in 2007), and it is a testament to her ability as a songwriter, singer and monumentally gifted performer." -JezebelMusic.com, Record Review: All Are Relative, By: Brook Pridemore Dec. 12, 2008
"Elizabeth Devlin is a creative young singer from Queens, with a voice at once strong and ethereal. She accompanies herself on Autoharp, which casts her every song in shades of spooky." -MUSIC: Critics' Picks, TimeOUT NY, Dec. 4-10, 2008 ISSUE 688
Why She's So Antifolk
"...I don't think I am 'antiFolk' so much as I am 'proLach'...haha...!"
Also find more about Elizabeth here