Elastic No-No Band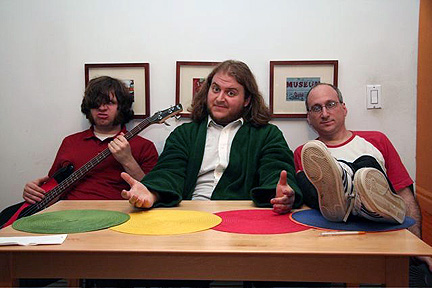 Bio
Elastic No-No Band was, like Nine Inch Nails, originally basically a one-man band. Singer/guitarist/songwriter Justin Remer (pictured center) created music for his short films using the Elastic No-No Band name and then started making lo-fi CD-R albums for his friends and anyone else interested.

The songs were, and continue to be, a vast array of musical character studies, off-color novelty tunes, semi-geeky tributes to pop-culture (including songs about Run-DMC, Klaus Kinski, and country singer Laura Cantrell), and combinations of the above.

Justin started playing the Antihoot at the Sidewalk Café in early 2005, where he met Preston Spurlock (pictured left; also of the Sewing Circle) and Herb Scher (pictured right), and Clint Scheibner (pictured a few feet right of Herb). Once Elastic No-No Band began playing gigs at Sidewalk, the disparate players all gradually became full-time members of the band, with Preston on bass, accordion, melodica, and whatever else he could grab, Herb tickling the ebs and ives on the piano, and Clint banging on a bass drum strapped to his chest as though he were in a backyard marching band. (Since then, however, Clint has changed his name to VeVon and is pursuing his own performing career, leaving E.N.B. a percussion-less trio.)

When E.N.B. played the 2006 Summer Antifolk Festival, they were mentioned as one of the performing artists in a blurb in the New York Press which read: "These [artists] include some big names such as Suzanne Vega and others like The Elastic No-No Band"... hence the quote below.

Justin just compiled a new disc called THE VERY BEST OF ELASTIC NO-NO BAND SO FAR which features the best of those old CD-R albums mixed with some newer home recordings of the trio version of E.N.B. Right now it is only available at E.N.B. shows, but hopefully soon it will be in Wal-Marts and Targets nationwide, available free when you buy a new Toby Keith CD.

The trio is also looking to record Justin's 10-song epic concept album MY 3 ADDICTIONS as soon as they can find a producer with the patience to do it.
Press
"[Elastic No-No Band are] others. . ." - New York Press, 2006
"Elastic No-No Band are much funnier than Bright Eyes."- Richard Nixon, 2006
Why They're Antifolk:
Because where else would a man singing songs in a bathrobe, accompanied by a man playing a melodica and a man wearing glasses, find acceptance and feel at home?
More info at ENNB.