Domino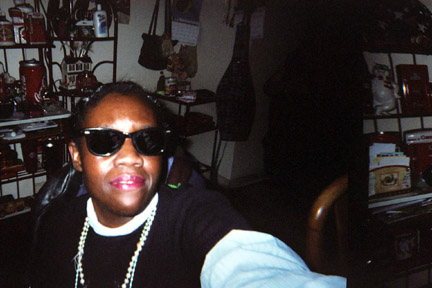 Bio:

Domino grew up in New York City.Her mother Willie Mae Wright (nee Willie Bell Hamilton),raised Domino pretty much by herself.Domino never knew who her father was. Willie Bell studied with music teacher Wennie Scott(Miss Wennie),and voice teacher Jimmy Willis at 1650 Broadway. Domino started writing lyrics first,then her mother taught the basics of adding the music(the notes.Domino took a beginners's screenwriters course with Ron Peterson in 1991.Her first gig was at Tin Pan Alley,a bar/grill on B'way in 1985.

Domino is working on White Tie the follow up to Black Tie

Why She's So Antifolk": "I like anything outrageous! I like to try the "Unknown", as they say. I am Antifolk because I like to play off the wall music, I don't want to be classified as a rocker, or a jazz artists. Antifolk lets me really eaplore everything music has to offer.