David K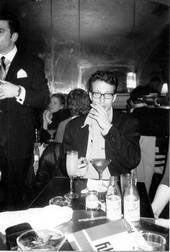 Bio Convinced from an early age that he was destined a "listener," David K never really played guitar as a despondent teen, all alone in his bedroom for hours on end, but always wanted to, so he finally picked up a guitar rather late in life at the age of 36.
By 1999 his band, Bag One, released "Sunglass Stories" one of the best selling albums on the internet by an unsigned band, and while that project was going well, he kicked myself out of the band to manage Lauren Echo, a member of Bag One, because sometimes it's better to know when you're Morpheus and when someone else is Neo.
With his new band, The Second Third, he is currently recording a solo debut album Living Vicariously Through Myself. K's company Musified Projects, promotis NYAF Anti All-Star Shows, as well as working closely with Musified Artists. Nowadays, David K really gets off sitting alone in his bedroom late at night playing his songs!
Why He's Antifolk: Since 2000, and earlier, in and out, and on and off, I have been an integral, as well as, inconsequential part of the NYAF scene (since being introduced to Lach by Jamie Block in early 1990 something.)
Monday nights, upon late Monday nights, hangin' out with my friends 'cause they all play guitar, I've learned my songwriting lessons and broken through my nervous stage fright and have my own brand of songwriting, lyrics, stage banter, and beatless music.
In my travels I have always represented that the song, the lyrics, and community scene are as important to Antifolk as is the music itself, which defies genre labeling; the music aside, I worked sound at Sidewalk for more than a year and support the scene and the artists through concert promotion, editorial articles, career guidance, straight conversation and friendship, as well as, bringing the scene sensibilities to many people throughout our fair land having hosted the Antifolk Songwriters Open Stage. But above all else, I don't whine over my # or cry when I get slotted into the "One Song Wonder Round." I've paid my dues.
Why is anybody, who they are, and who they've become? It is my destiny, the fulfillment of my karma. If it possible to be something that doesn't exist… "I am Spartacus; I am Antifolk."
Press Quotes: "I took a rare trip to Lake Worth last week for the Bamboo Room's Antifolk All-Stars show. More accurately, it was David K's Antifolk All-Stars show at the Bamboo Room. The Managing Editor of Closer magazine had dreamt of putting on a South Florida Antifolk show since arriving here from his native New York. For David K, with a sold out show under his belt, fans of the loosely knit genre of anti-folk may expect a sequel in the near future."-Dan Sweeney – City Link
"David K wanted to host something different from the other area open-mike nights, calling his gathering an "Antifolk Songwriters Open Stage." He's made it work, posting signs on the walls that implore people to listen, and attracting a growing number… it's taken nearly three months, but many now seem mores intent on listening than on being seen and heard."-Bill Meredith – Palm Beach Post
"David K is Antifolk pop." Fevered Brain of Radio Mike
"David K is one of the best songwriters on the New York scene today. His wordsmanship is inspiring and of his own style." Block – recording artist
"Part of an "Artist Witness Protection Program," David K relocated to South Florida from the NYC Lower East Side music scene. Contributing to the S Fla scene, DK, a published author, poet, and songwriter hosted the "Antifolk Songwriters Open Stage" in WPB." Editorial – Closer Magazine