Chris Chandler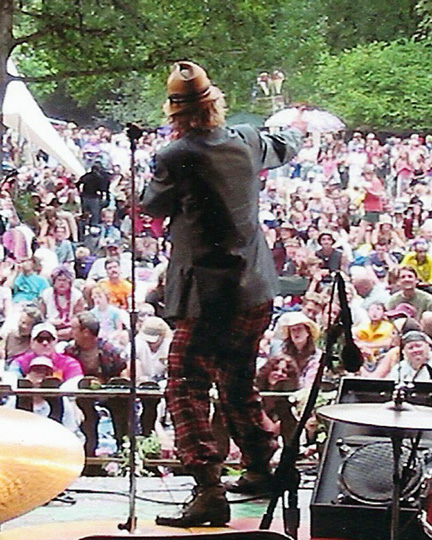 Bio

Few musicians can claim "on-the roadisms" the way Chris Chandler can. He is a true veteran of the road, traveling across The United States of Generica for many years. His anthology of road tales transforms into a flock of doves beneath the musical high-wire act.

He has worked with everyone from Allen Ginsberg to Ani DiFranco and Pete Seeger to Mojo Nixon. Utah Phillips says, "Chris Chandler is the best performance poet I have ever seen."

Originally from Stone Mountain, Georgia the son of a Baptist minister, Chris has been on or around the stage his whole life. As a teen-ager he was in the bars and on the road working as a roadie for bands like the Georgia Satellites. He graduated from the North Carolina School of the Performing Arts in 1988. That summer - which was supposed to be a "summer away from college" he hit the road as a street performer to fund his way to audition as a lighting designer in Theaters across America. He actually landed a job on Broadway no-less but turned it down to become a performer in his own right. He has been on the road ever since.

For the first few years he was living in his car and stopping in every town from Bangor to San Ysidro where he opened his guitar case and waxed the manifesto electric sporting a sign that read "Stranded Musician Needs Gas Out of Town." Eventually he hooked up with a group of performers busking in Harvard Square where he joined a commune of other traveling street musicians. These nomadic experiences naturally fed him into the world of activism. Since then he has performed at thousands of festivals, colleges, and bar rooms across the US and Canada.

You can often find him at demonstrations and protests - large and small, across the US and Canada. Recently, he was seen protesting the FTAA in Miami, the G-8 in Calgary and the Iraq war (both of them) in Washington, DC to name a few.

His experience as a street performer and rabble rouser shine through every performance making him a welcome addition to festivals, carnivals, hay rides and riots, or where ever the rabble need to be roused.

This is not performance art - like the clichés of Hollywood would imply. No one pours chocolate on the wings of a sparrow. This is steeped in the centuries of tradition that define theater. At one time in human history bards roamed outside the castle wall carrying tales from village to village. Today, gritty road warriors do the same - outside the castle walls of corporate America. Between the frequencies of Clear Channel, still exists the forgotten art form of storytelling.

I am an anarchist, and I vote.
Press:
"Too Original To Garner Even Moderate Mass Appeal" – Dirty Linen
"Too Brilliant To Remain Buried In The Underground" – Art Voice
"Great Work, Ever Thought Of Trying It In Calypso?" - Allen Ginsberg
"This Man Is Dangerous" - The Washington Post
"Acidly Ironic Even In Its Still Rising Utopianism." - Andrei Codrescu, NPR.
"hits you hard, and leaves your head spinning. Chandler possesses a remarkably fertile and inventive mind..." - Rich Warren for Sing Out!
Why He's So Antifolk?

Names labels titles are not always what they seem. Bolshevik actually means minority but it was a popular revolution. Anti-folk does not mean against the "Folks" (though sometimes the bastards deserve it) At some point in the 1980s Folk music (tm) became a sort of pop that middleclass posers listened to on a CD they bought at Starbucks (tm). When that became "Folk" music I became anti folk.
Check my website for upcoming dates or to sign up for the acclaimed monthly newsletter.