Carl Creighton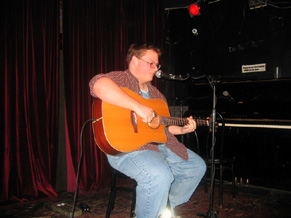 BIO:
Carl Creighton was born somewhere in Minneapolis, Minnesota and spent all of his life in the southern, hick suburb of Prior Lake. He is currently residing in Queens, a 45 minute subway ride away from anything remotely exciting (Manhattan). He's been playing his own unique style of folk pop crap for as long as he can remember. The 21 yearold's work has been compared to everything from Ben Folds to Neil Young to Fountains of Wayne. I think the guy that said Fountains of Wayne was drunk. His hyperpersonal ballads have been known to make many a young girl cry, something Carl takes a strange pride from. But as much as Carl enjoys the acolades, he's really only doing music until his career in data entry takes off. His debut album, Five Songs You Can Get for Free Off My Website, is available for purchase at any venue Carl happens to be performing at, usually the Sidewalk.
PRESS:
"A clear and supple tenor/baritone voice, soaring over a rippling, rushing cascade of piano notes and harmonies. Watching him as he sits at the piano is an experience in and of itself." - Todd Schierenbeck of the Prior Lake American
WHY AM I ANTIFOLK?
I love all the music and community that's coming out of the Sidewalk Cafe and feel a great need to be a part of it. And I admire Bob Dylan too much to imitate him.