Adam Brodsky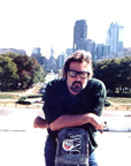 Recently named "Best Folk Performer" in the Philadelphia City Paper Music Awards, Adam Brodsky is one of the more distinct voices in Philadelphia today. Adam Brodsky sings and strums the same way he writes — relentlessly and without compromise — saying what everyone else wishes they could say. His music is a voice for oppressed rights, oppressed cubicle workers and oppressed boyfriends everywhere, writing with a brash sense of humor and a healthy respect for the roots of American Folk Music.
That respect has been highlighted this year. Adam spent the summer presenting a program called "A Brief History of Folk Music" at 30th Street Station in Philadelphia. Sponsored by Smithsonian Folkways, the program offered an overview of the folk tradition including murder ballads, cowboy songs, sea shanties, Antifolk and protest songs.
However, he is best known for his outrageous style, clever wordplay and a gift for performance. He leaves an unforgettable impression and a lot of laughter in his wake.
Why He's So Antifolk
Antifolk: (an-ti-fok), n., v., adj. a subgenre of folk music. uniting the traditions of folk music with those of punk rock. Opposed to the caramelized sounds pop folk, Antifolk embraces the traditions of Woody Guthrie and Joey Ramone and Dock Boggs. See Adam Brodsky.
Press Quotes:
"His in-your-face songsmithing has more in common with Woody Guthrie than most of those saccarine-sweet neo-folkies out there." see full article-Eric Brace, Washington Post
"Folk Remedy is a return to the days when folk meant something" see full article -Brandies Justice
"So where the hell does Adam Fucking Brodsky of all people get off making a record this awesome?...Adam Brodsky's Folk Remedy raises the bar on what an Antifolk album should be." - Reviewed by Tony Hightower
"Buy Folk Remedy and you'll get a highly entertaining hour of raw, literate folk/punk without leaving home to see one of Brodsky's manic shows, though you should do both." - by MJ Fine
"Duly noted has been mah appreciation for the contemptibly stigmatic and outrageously silly phraseology of Antifolk fuck Adam Brodsky." - Philadelphia City Paper
"The kid's got heart, and words to spare." -Philadelphia Weekly